Hayes at the Helm: Dynamic Duo to Lead Boulevard Place Food Pantry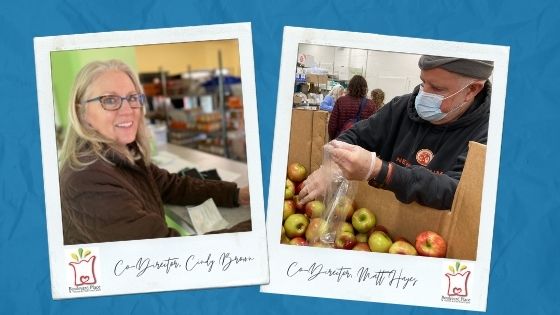 When longtime Catholic educator Matt Hayes retired in January 2020, he didn't want to completely disconnect from nearly of half-century of community betterment through hands-on involvement. A few days a week, he visited patients on behalf of chaplains through the pastoral care department at St. Vincent Hospital.
Then came COVID-19, which derailed that volunteer activity.
Hayes' path led him to a completely different direction: the role of a helper at the St. Vincent de Paul two food pantries, first at the 30th Street location, and then at Boulevard Place.
That's when Hayes heard that Cindy Brown was looking to eventually step down as Boulevard Place pantry director. The pantry—one Indianapolis' top 25 pantries—fills a unique countywide food-relief role from its 3,000-square-foot Midtown grocery and warehouse.
In January, the board unanimously hired Hayes, of Indianapolis, to serve for a three-year term beginning March 2. He will share the duties with Brown for her sixth and final year as director, learning the ropes of the almost entirely volunteer-run organization that recently doubled in size and provides food for more than 1,100 client households per month.
"From its humble roots in the basement of the parish offices of St. Thomas Aquinas in 1982, Boulevard Place has literally grown in size and scope to become a cornerstone of emergency food relief in Marion County," says Phyllis McNamara, president of the board, which also includes a treasurer, secretary and one representative each from the five Catholic churches that provide financial support for the pantry. "Matt is the perfect fit at the perfect time to continue this vital mission."
Hayes, who holds an Ed.D. in Educational Leadership from Spalding University in Louisville, Ky., spent four decades involved in adult learning, organizational/educational leadership and theory, fund development, group facilitation and dialogue and strategic planning.
His career began in 1969 as a religion teacher at St. Xavier High School in Cincinnati, Ohio. Major milestones include serving as president of Brebeuf Jesuit Preparatory School in Indianapolis from 2006 to 2012 and being director of Pastoral Care at St. Vincent Health from 2012 to 2015.
The unpaid position at Boulevard Place is unique in that the director oversees two operations co-managers and more than 100 volunteers.
"What thrills me the most about being a co-director with Cindy, then director after the first year, is that I inherit a dedicated team of volunteers united in the service of our fellow citizens and motivated by our connection to St. Vincent de Paul and poor relief," says Hayes. "I've been involved in some way, shape or form with Catholic impact on civic betterment for many years, and this continues that connection."
McNamara thanks Brown, who became director in 2016 and oversaw the Boulevard Place Food Pantry's expansion to its current location at 4202 N. Boulevard Place, in the Butler-Tarkington neighborhood. Brown is stepping aside but will stay active within Boulevard Place.
"With Cindy's leadership and guidance, we survived almost two years of COVID, kept up service without hesitation during construction of a large warehouse in 2020 and renovation of the client shopping area in 2021, and set new all-time highs for households served," McNamara says. "She has done an outstanding job in what could have been impossible circumstances, and she has led this pantry in a way that we will be able to maintain our pantry for future growth for our guests so they can feed their families."
The pantry was started by Bob Kennie, who served as director from 1982 to 1990. Mark Varnau was director from 1990 to 2016 before Brown took over. With roots that trace back 40 years, Boulevard Place has made strides. The directors—neither who receive a salary—now oversee two paid part-time operations managers along with four other volunteer positions (communications coordinator, energy coordinator, facilities coordinator, and volunteer coordinator). Over 100 volunteers handle a wide range of tasks, including helping client shoppers during the pantry's three in-person shopping shifts and at drive-thru.
"I'm really pleased to see there is an infrastructure of other people here. I would really want to work in a team situation," Hayes says. "My image of an organization is not a pyramid, but a circle. I always talk about how in our lives we form knots with other people, and we knot ourselves with people who either have a common vision or a shared history. That's how we make a difference."
Brown says Hayes' availability was a blessing for the pantry, which finished December having fed 1,387 households—its busiest month in the past six years. During 2021, Boulevard Place served 11,602 households—another record.
"I am honored and humbled to have contributed to the pantry's success story, but I also delighted to be able to turn the page," Brown says. "Just as Mark Varnau stayed on with a more limited role, so will I after this final year as co-director. We expect a challenging but rewarding year, and we have the personnel in place to handle whatever comes our way."